(Beritadaerah – Kolom) Istilah revolusi industri 4.0 sangat dikenal saat ini, menurut World Economic Forum revolusi industri 4.0  didefinisikan sebagai cloud computing, sistem big data, rekayasa genetika dan perkembangan neuroteknologi yang memungkinkan manusia untuk lebih mengoptimalkan fungsi otak.
Mengacu analisa universitas Oxford, tahap-tahap revolusi industri, dimulai dari abad 18 dengan penemuan mesin uap, mendorong munculnya kapal uap, kereta api uap, mesin pabrik bertenaga uap, dan lain-lain. Lalu masuk abad 19 ditemukan listrik dan assembly line yang meningkatkan produksi barang, dan sekarang ini masuk ke abad 20 terjadi inovasi teknologi informasi, komersialisasi, personal computer, dan lain lain. Dan masuk abad ini revolusi industri 4.0 kegiatan manufaktur terintegrasi melalui teknologi wireless dan big data secara masif.
Ada dua karakteristik utama revolusi Industri 4.0, pertama adalah kehadiran disruptive technology, disruptive technology hadir begitu cepat dan pesat sehingga memberi ancaman bagi industri-industri raksasa. Karakteristik kedua adalah perubahan ukuran perusahaan, di era yang baru ini, ukuran perusahaan tidak perlu besar, namun perusahaan tersebut haruslah 'lincah' dalam memanfaatkan teknologi dan informasi.
Terdapat tiga fokus utama revolusi industri 4.0 pertama shorten time to market siklus Inovasi yang lebih singkat, produk yang lebih kompleks, serta volume data yang lebih besar. Increase flexible dimana mass production yang lebih terindividualisasi, pasar yang volatile, serta produktivitas yang tinggi. Boost inefficiency dimana efisiensi energi dan sumber daya menjadi faktor kompetisi yang kritikal. Fokus ini membuat wajah kegiatan ekonomi dunia sekarang pada revolusi Industri ke-4 diwarnai dengan empat hal yang utama: marketplace, sharing economy, smart appliances, e-education, dimana saat ini berbagai macam kebutuhan manusia telah banyak menerapkan dukungan internet dan dunia digital sebagai wahana interaksi dan transaksi.
The Rise of New Industries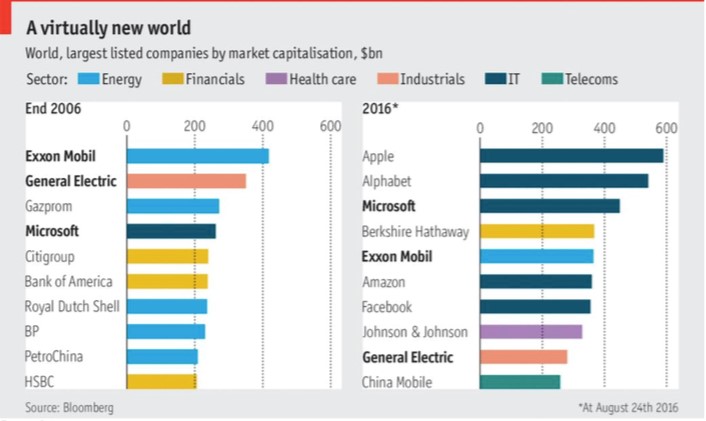 sumber: economist
Revolusi industri 4.0 secara global mengandung acaman bahwa era industrialisasi digital akan menghilangkan 1-1,5 miliar pekerjaan sepanjang tahun 2015-2025 karena digantikannya posisi manusia dengan mesin ini prediksi Gerd Leonhard futurist dari Jerman.U.S. Department of Labor juga melakukan estimasi bahwa 65% murid sekolah dasar di dunia akan bekerja pada pekerjaan yang belum pernah ada hari ini. Namun era digitalisasi berpotensi memberi peningkatan net tenaga kerja hingga 2.1 juta pekerjaan hingga 2025. Dan menurut World Economic Forum terdapat potensi berkurangnya emisi karbon hingga 26 miliar metrik ton dari industri.
Beberapa model bisnis dan pekerjaan di Indonesia telah terkena dampak dari arus digitalisasi revolusi industri 4.0 adalah : Toko konvensional mulai tergantikan dengan online marketplace seperti tokopedia. Taksi dan ojek tradisional mulai digantikan moda transportasi online yang terbesar sekarang gojek. Pertumbuhan ini akan semakin banyak dengan semangat pemerintah dan swasta untuk mengembangkan startup-startup Indonesia yang sekarang bertumbuh dengan cepat.